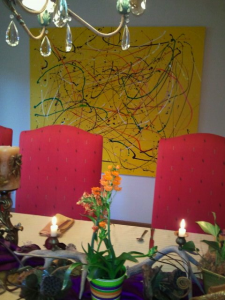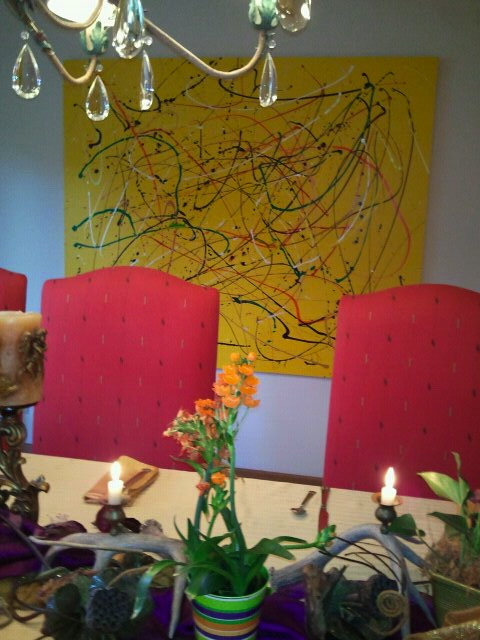 Last weekend I had an impromptu party for some cousins who were visiting from England.
Easy steps to entertain a crowd for breakfast.
Please check out blog post March 21st, 2012. Being that I keep a clean table cloth with centerpiece ready for any occasion I just popped the pretty Trader Joes plants that I have had since St Paddy's day in my kitchen window where they get plenty of light, back on the dining table. :)
I invited everyone a couple of days before the event.
Menu
Ramos fizz
Black beans with Quinoa scramble eggs with Gloria's Pico de Gallo and Tomatillo Salsa
(See blog post March 8, 2012)
Bacon & locally made Irish pork sausage
(I bought sausage from my local farmer's market in Del Mar California
open Sat. 1:30-4:00 pm)
Bought: cinnamon coffee cake
Toast made from English muffins and whole grain bread.
Locally smoked salmon from a local market.
Strong organic coffee from Jimbos
I heard from a local cousin that our mutual English cousins were visiting on their way to Costa Rica for a big jungle adventure. I asked my cousin if they would all like to come for an early breakfast. Early breakfast was a necessity because I had plans later in the day.
It worked great for them because they were going to our world famous San Diego Zoo after coming to my house.
I made out my menu the day before the event, and went to the market for the few items I needed to buy. As you know from some of my previous blogs I make black beans with quinoa, salsa and Pico de Gallo recipes every week. Easy delectable meal for company was prepared. It's what I eat for breakfast every day.
I cooked the bacon crisp the night before and just popped it in the oven in the morning to rewarm from the refrig. I also prepared coffee in coffee maker ready to turn on first thing when I woke up the next morning. I set the table the day before the event. The sausages were already cooked. All one had to do is fry them in the pan, add a little coconut oil if need be and turn them until brown. I served the slab of locally smoked salmon cold. I cut the store bought cinnamon coffee cake and put it on a decorative plate.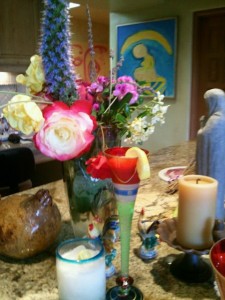 As soon as I knew the party was going to happen a fun idea popped into my head. I got excited about the idea of serving the first alcoholic beverage I ever had in a restaurant. I was 19 years old and we were out to brunch in La Jolla, California and my father ordered me one. Lucky for me, I was not carded. I felt so grown up drinking the Ramos Fizz!
I made the drink on Friday night to test it out. I felt that it was not as delicious as I remembered it. Perhaps the thrill of the memory was more delicious than the actual drink? This is the recipe a la Francie. My concoction is less work for a crowd and you have lime aid on hand for the non-drinkers. For the traditional recipe, see Ramos Fizz History.
Recipe for Ramos Fizz a la Francie
Combine water with frozen lime aid in blender with ice
Blend until slushy
to this add 2 ounces dry gin (or more!)
Add 1-ounce half and half
Blend well in blender before serving
Henry C. Ramos created the Ramos Fizz in 1888, in his bar in New Orleans; it was originally called a "New Orleans Fizz." Back before prohibition this drink was very popular, and because labor rates were so cheap, the Ramos brothers would hire a couple dozen "shaker boys" to whip up these drinks during fair time. The drink was so popular that it was still difficult for them to keep up with the orders. Over time a fast drink replaced the idea of a quality drink and the Ramos Gin Fizz slowly faded away.
The breakfast was so delicious and fun! It was a cold rainy night and early morning. I had a fire in the fireplace going when people arrived. After breakfast the rain stopped and we went out to see the children's garden and vegetable garden. The weather that day frankly reminded me of Ireland or England more than Southern California.
If you try this some weekend you might find that you enjoy entertaining in the daytime as the Europeans do. There is more time to visit and really enjoy one another or play a game in the garden.
Have fun Entertaining ;)
Cheers and tally Ho
Bye for Now
Francesca
Did somebody tell you about watermelon Viagra? If you're concerned about sexual disorder, you have to study about it. Erectile dysfunction, defined as the persistent failure to maintain an erection to the orgasm, exerts an estimated 15 to 30 millions men in the United States only. Because some of symptoms are medical emergencies, it's considerable to know what to do if they happen. On occasion kidney sickness will lead to erectile dysfunction. As a rule, this may include high blood pressure, anxiety, or a venous leak.