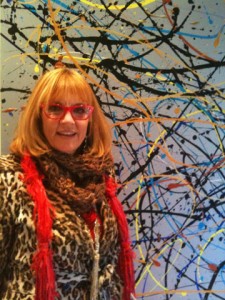 My art is alive!
Born in Los Angeles,
Francesca Filanc is a naturally
talented and prolific artist whose
entire being is consumed by her
unrelenting desire to create original
works of sheer beauty.
Abstract expressionist painting is
an obsession for Francesca Filanc
with its electrifying brush strokes
and complex use of naturally
vibrant color – she embraces the
opportunity to produce fine art for
all to enjoy for its positive healing
energy.
Self-taught, Francesca Filanc
demonstrated a proficiency and
aptitude for painting at a very early
age – it is simply in her being.
Gradually, she became a diligent
student of art history while concurrently
carving out her own distinct
style and unique ability.
With this cohesive series of works,
Francesca Filanc approaches her
blank canvases with a raw and
powerful creative force and offers
not only an aesthetically pleasing
and masterfully executed final
product, but also a tremendously
valuable insight into the depths of
human emotion, tenderness and
vulnerabilities
Did somebody tell you about watermelon Viagra? If you're concerned about sexual disorder, you have to study about it. Erectile dysfunction, defined as the persistent failure to maintain an erection to the orgasm, exerts an estimated 15 to 30 millions men in the United States only. Because some of symptoms are medical emergencies, it's considerable to know what to do if they happen. On occasion kidney sickness will lead to erectile dysfunction. As a rule, this may include high blood pressure, anxiety, or a venous leak.