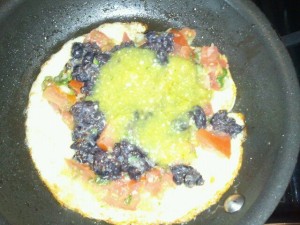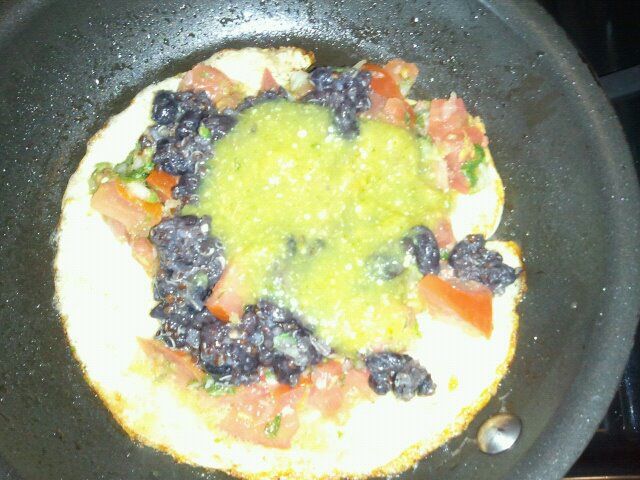 Gloria is originally from Mexico. After a knee replacement last May, I felt my speedy recovery was due in part to these two delicious condiments. I lost 14 pounds that I have, so far, successfully kept off. One of the changes in my diet is what I eat for breakfast every day. As a morning girl with type O blood, I am typically hungry when I wake up and my body craves protein. In the past I would eat a protein bar or cereal for breakfast before going to the gym. After working out I was ravenous again! I have tested my new breakfast with great success :) I stay full and satisfied all day, many times no stopping for lunch if I am wrapped up in my painting, gardening or playing the guitar. Not that I am saying that is a good idea. If I am busy painting or gardening for instance I might forget to eat lunch.
Fran's breakfast:
Ingredients
2 egg whites cooked
1 T black beans and quinoa
Generous helping of Gloria's Pico de Gallo and Tomatillo Salsa
1 cup fresh squeezed orange juice (Farmer's Market oranges)
Coffee black or with half and half or tea
I love these two condiments on everything from breakfast, fish, meat, soups and stews. My dear friend Loretta posted on my Facebook page: "Hi Francie……Tomatillo is great on everything…"
The Pico de Gallo and Tomatillo salsa last nicely in the refrigerator for a week. If you want them hotter just add more jalapeños (Gloria formulated these recipes "Para esta gringa!"). Heat will vary depending on the individual chilies. They grow in my garden year round.
Gloria's Pico de Gallo
Ingredients:
6 large tomatoes knife chopped into ½" cubes
1 onion chopped fine (it is ok to use Cuisinart for onion) remove and set aside.
1 large bunch or 2 small bunches cilantro (chop in Cuisinart 10 seconds) along with 1 or 2 jalapeños
Mix all ingredients together
Add salt to taste
Gloria's Tomatillos Salsa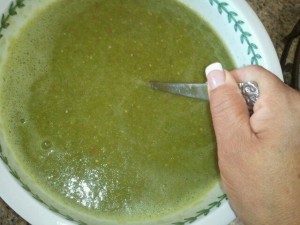 Ingredients:
Peel the Tomatillos
Bring 18 tomatillos and 2 jalapeños to a boil and simmer for five minutes
Grind in blender with a little cold water plus 1 clove garlic and ½ bunch Cilantro
Add salt to taste
Have fun experimenting with putting them in or on all your food. :)
Bon Appétit
Rippin' Lips
Bye for now,
Francesca
Did somebody tell you about watermelon Viagra? If you're concerned about sexual disorder, you have to study about it. Erectile dysfunction, defined as the persistent failure to maintain an hard-on to the orgasm, exerts an estimated 15 to 30 millions men in the United States only. Because some of symptoms are medical emergencies, it's considerable to know what to do if they happen. On occasion kidney disease will lead to erectile dysfunction. As a rule, this may include high blood pressure, anxiety, or a venous leak.