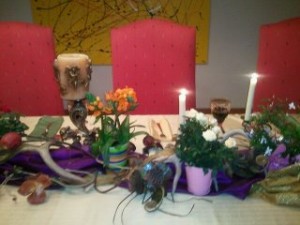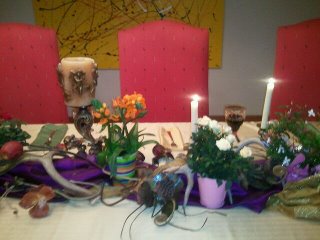 St. Patrick's Day, last Saturday night, was a leprechaun reason to entertain the neighbors. I love decorating the table for a party. Sometimes, if I am really well organized I do this a day or two before the event.
Creating an enchanting centerpiece
is part of the ambiance for a
successful dinner party.
Many people don't know where to begin. Remember finger painting in kindergarten? Painting the Centerpiece is right up there with the kindergarten experience, in my book! I get so excited, I am thrilled as I write to you about creating your own centerpieces. You too can have fun creating your own centerpieces, it's easy!
Growing up, my mother did not encourage me to cook with her.
But creating an elegant centerpiece was different!
I can remember how fun it was to go out into my mother's garden and pick plants to bring in the house and put on the table in an interesting design surrounded by votive candles. If Pat, (Patwelsh.com -my mom) had a specific idea in mind she would pick the flowers and greenery herself, but then let me have full creative license in culminating the project. So last night, with the candle's lit I snapped some quick photos with my smart phone, smile on my face. I was pleased and happy.
 The table has helped set mood for stimulating conversation.
                                                    I always have my dining table set with a centerpiece so all that is needed is to add the                                                                                                  finishing touches.
In this case I have a gold tablecloth on the table with two runners of gauzy material, one gold and one purple. I intertwine them, then put 3 large candles of different heights on the table. Then I take 5 elk racks that have a candleholder built into each one and place them over the runner.
Years ago my friend and I bought artistic woodland decorations from Michaels (Michaels.com). That then is the backdrop for whatever theme I chose to create.
Many times I pick flowers and greenery from my garden to decorate the table. On this particular occasion, I went to Trader Joes (TraderJoes.com) looking for shamrocks, but they had none. No worries. They had darling small roses, bulbs in colorful pots and pink jasmine.
Great for a St. Paddy's Spring Display!
 The plants were so reasonable just a few dollars and, by the way, Trader Joes has daffodils this week, just 1.50 a bunch – can't beat it!
HAVE FUN CREATING YOUR OWN CENTERPIECES!
Bye for now
 Rippin Lips
Francesca
Did somebody tell you about watermelon Viagra? If you're concerned about sexual disorder, you have to study about it. Erectile dysfunction, defined as the persistent failure to maintain an erection to the orgasm, exerts an estimated 15 to 30 millions men in the United States only. Because some of symptoms are medical emergencies, it's considerable to know what to do if they happen. On occasion kidney illness will lead to erectile dysfunction. As a rule, this may include high blood pressure, anxiety, or a venous leak.