Hi all!
Glad you all stayed tuned for the recipes I talked about in my last post.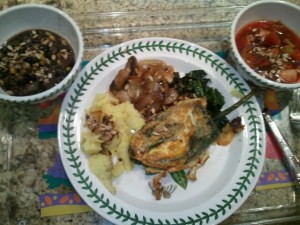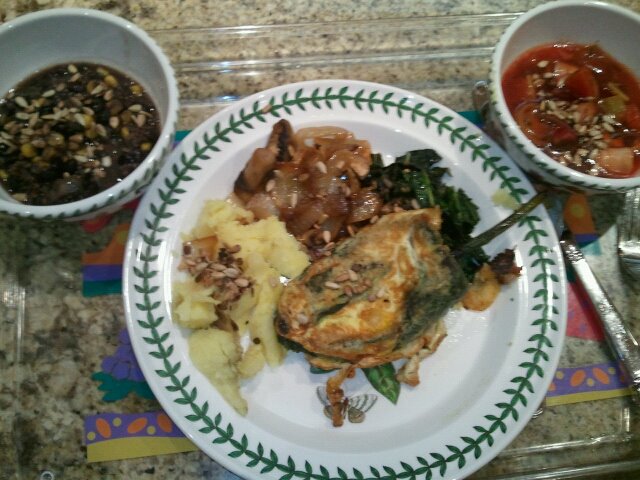 Menu:
Vegetable soup
Black beans with quinoa
Collard greens with bragg
Steamed white rice in rice cooker
Sautéed onions with mushrooms and garlic
Baked sweet potatoes with skins on
Chile rellenos using poblano chilies
Rice pudding "Pete" style
The first recipe below is for the vegetable soup.
Francesca's Wonderful Winter Vegetable Soup
6 cups water
2 to 4 cups vegetable broth (box variety or I use the powdered Rapunzel brand)
1 rutabaga chopped
2 or 3 beets chopped
1 or ½ squash such as acorn or delicata
2 or 3 large tomatoes diced (I just stopped using canned tomatoes because of a potential health issue in the liner. Read this article for more information: Are Canned Tomatoes Dangerous? The Latest BPA Scare)
1 or 1 ½ white onions chopped
3-5 leeks chopped
1 bunch celery chopped
1-2 cans Cadia organic sweet corn
Several cloves of garlic
Be as creative as you wish when you add the spices to this soup. Some of the ones I used were: cumin, Tabasco, a dash of nutmeg, dash of cinnamon, celery salt, & garam masala.
In a large pot put 2 or 3 tablespoons olive oil. When hot add chopped garlic. When the garlic is nice and brown add chopped onion. After onion turns translucent, add chopped leeks and chopped celery. After they cook a bit add chopped squash. You might want to remove the other ingredients so the squash can caramelize a bit or add squash before pot is too full. The caramelized squash I find gives a meat-like flavor along with consistency. Adding spices at this time also helps that process. Now you are ready to add water and broth. You want to have enough broth to cover the veggies nicely. Sometimes I'll put in a bit of white wine. Let all ingredients simmer in pot for 45 minutes to an hour and a half.
Meanwhile, brown raw sunflower seeds in a pan on your stove. Set them aside. Grate some Parmesan or asiago into a small bowl.
When this hearty soup is finished you'll find it is a meal in itself. Add a sprinkling of cheese and sunflower seeds, good hot bread or tortillas and you have a delicious meal.
In the menu from last blog's post I used corn tortillas to make tacos on the plate with black beans and quinoa, sweet potatoes, salsa and Pico de Gallo — delicious!
Black Beans with Quinoa
½ onion
2 or 3 cloves garlic
Salt and pepper to taste and 2 or 3 T cumin or more
The night before take 2 cups black beans and cover with water in a large pot. In the morning drain and rinse the beans. Pour 4 to 5 cups water over the beans. Bring to a boil and then slow simmer for two or three hours. Meanwhile sauté chopped garlic and onions in a pan. After beans have cooked one hour add quinoa and spices salt, Tabasco, cumin. After another 45 minutes add sautéed ingredients. Serve as a side dish or as the main meal. Delicous over eggs or in an omelet. Sprinkle a few roasted sunflower seeds on top. Equally nice with the sweet potato. Yummy :)
Collard Greens with Bragg
Wash collard greens well and chop into 1-inch pieces. Place 1-2 T olive oil or 1/4-1/2 cup water into skillet, cover, cook for 2-3 minutes until limp. Drain off any excess water. Pour 1-2 T bragg on top of collard greens.
Chile Rellenos using poblano chilies
Roast chilies on the stove till they get black. I like using the poblanos because they are larger and can be filled with so much more cheese. Place them in a brown paper bag for 20 minutes. Then peel them immediately under running water in your sink. Carefully use a knife to cut down one side of the chili and clean out the seeds.
Slice cheese in long triangle shapes. I like using asiago or red cheddar. Most people like using Monterey jack.
Prepare 4 chilies, take 3 eggs and separate the whites. Use a mixer to whip the whites into peaks. Then fold the slightly beaten egg yolks into the whipped egg whites. Place 2-3 T Flour on a plate.
When ready to cook heat 3 T olive oil in a large skillet. While waiting for olive oil to become sizzling hot, lightly flour the cheese-stuffed chilies, then dip them into the completed egg mixture. Place in skillet. Pour any leftover egg mixture into pan on top of chilies. Let them cook till you see brown on edges then turn over to get the other side golden brown. Amazing and delicious. Bon Apetite!
Rice Pudding "Pete" style
½ cup cooked white rice
¼ cup milk
Dash cinnamon
Dash nutmeg

Enjoy :)
Stay tuned for Gloria's Salsa and Pico de Gallo recipes. Yummy!
Bye for now,
Rippin'Lips
Francesca
Did somebody tell you about watermelon Viagra? If you're concerned about sexual disorder, you have to study about it. Erectile dysfunction, defined as the persistent failure to maintain an erection to the orgasm, exerts an estimated 15 to 30 millions men in the United States only. Because some of symptoms are medical emergencies, it's considerable to know what to do if they happen. On occasion kidney disease will lead to erectile dysfunction. As a rule, this may include high blood pressure, anxiety, or a venous leak.