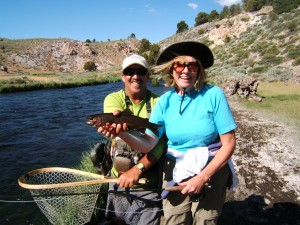 I thought it might be a good idea for me to clarify the expression " Rippin' Lips". In fly-fishing it means that you are bringing in lots of
fish! Or, it means that you have a fish on the line or that you are goin' fly-fishin'. Fly-fishing is one of my passions!
The feeling of having a large rainbow , cut-bow or brown on the end of the line is exhilarating. It's impossible not to shout "Oh I have a fish!"
In May of last year I had my right knee successfully replaced. By July I was champing at the bit, wanting to get out of town, up into the woods to go fly-fishing.
In the Eastern Sierras is an adorable little one-horse town, Bridgeport. If you have never been there, check it out. It's a forty-five minute drive north of Mammoth Lakes on Highway 395. Bridgeport is the county seat of Mono County. The town has a huge old courthouse and a museum. I met Susan Sarandon there one year on the 4th of July. The celebration in this little town is awesome. The Bridgeport Inn is over one hundred years old with the best prime rib dinner, an 1890s style bar with a jukebox, and even a ghost in one of the bedrooms.
I went fly-fishing at Hot Springs Creek near the airport for Mammoth Lakes.
Growing up in Del Mar, California we always had a huge Halloween carnival at the fairgrounds. They would always have a 'Go Fish' booth. Fly-fishing brings back that childhood excitement that I would feel when a hidden grownup put a toy on the end of my fishing line and gave it a yank!
In recent years I've fished the San Juan River in New Mexico. One of our inexperienced members got a fish on her line. I screamed, "Carmi's got a fish!" In my excitement I pulled up and, lo and behold, had a fish too!
The best fishing spots I can highly recommend are, San Juan River in New Mexico, Meeker, Colorado and Montana in and around Yellowstone Park.
There is nothing like fishing in Yellowstone with patches of snow, steam rising from the hot springs, and a big trout on the end of your line. One year I was fishing in a November blizzard. Every time my line touched the water I got a hook up or a double hook up. The experience is physical and spiritual at the same time. I would equate fly-fishing with a great love affair! You can't get enough or too much! It is addictive.
Fly-fishing, like painting, is a good drug.
Rippin' Lips!
Bye for now,
Francesca
Did somebody tell you about watermelon Viagra? If you're concerned about sexual disorder, you have to study about it. Erectile dysfunction, defined as the persistent failure to maintain an erection to the orgasm, exerts an estimated 15 to 30 millions men in the United States only. Because some of symptoms are medical emergencies, it's considerable to know what to do if they happen. On occasion kidney illness will lead to erectile dysfunction. As a rule, this may include high blood pressure, anxiety, or a venous leak.