As this year 2014 draws to a close I wish you all the healthiest, happiest and most fulfilling of New Years!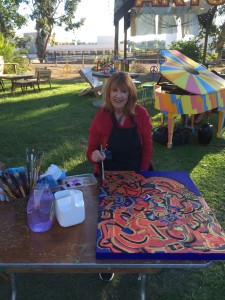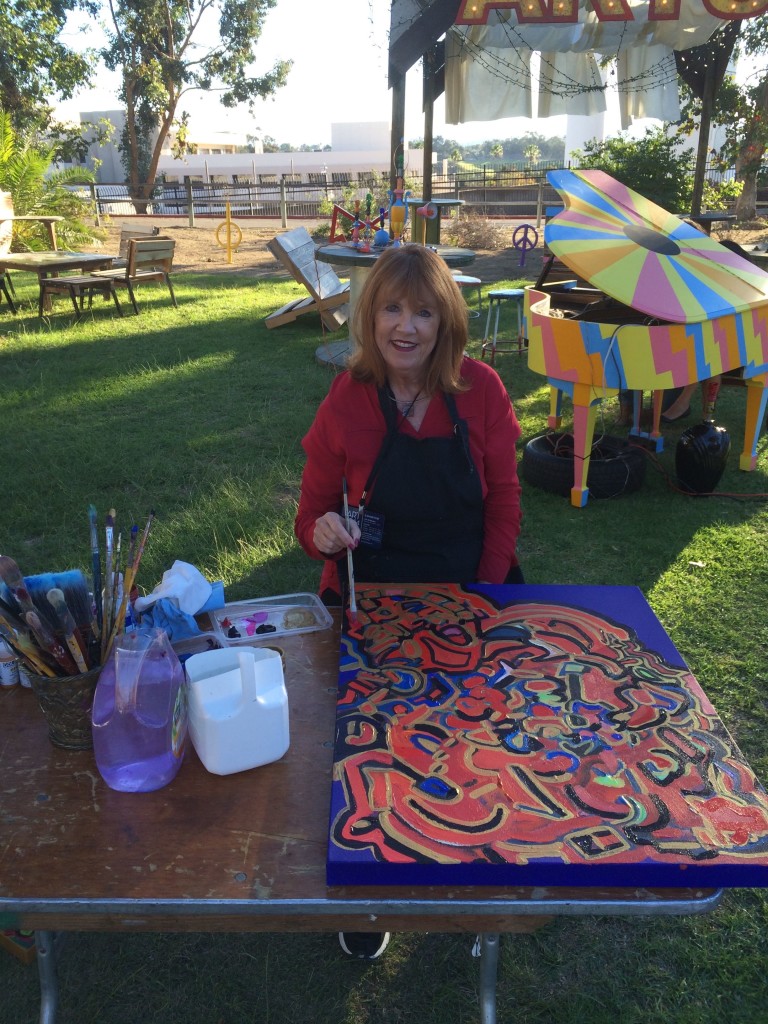 The past few months have been a whirlwind of activities. Aside from the traditional holiday events I was fortunate to have been selected to participate in Art San Diego 2014. I was also thrilled to be juried into Spectrum Art-Miami.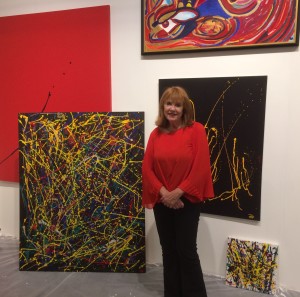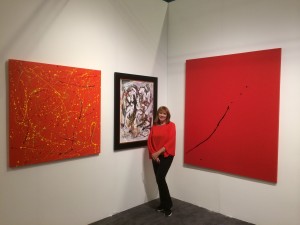 In conjunction with Art San Diego 2014 I was asked to make guest appearances on KUSI, NBC and the Fox Morning Show.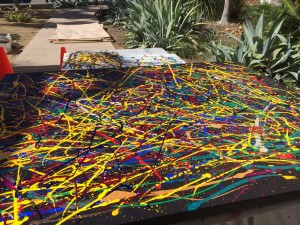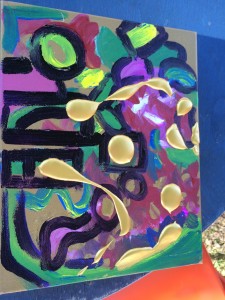 As well as being interviewed I created works of art while being filmed for these live TV shows. Francesca Filanc Being Interviewed and Painting on TV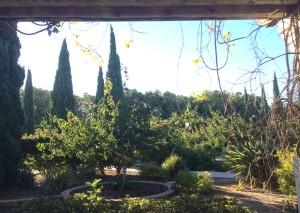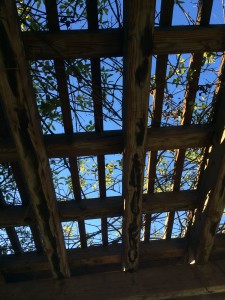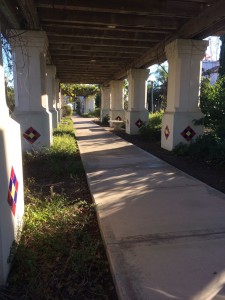 Being a part of Art San Diego was exciting and thrilling.  The show took place in the Activity Center in beautiful Balboa Park.  Parts of Balboa Park are reminiscent of Italy, Spain or parts of France as well as San Diego!  I would eat lunch each day in the adjacent beautiful gardens! They were quiet and gave me a chance to reconnect with nature and amazing architecture before returning to the show. ‪Francescafilanc.com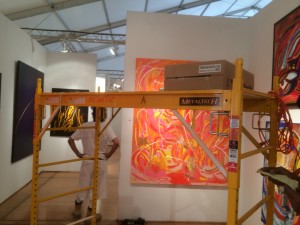 Miami proved to delight me more than my wildest dreams!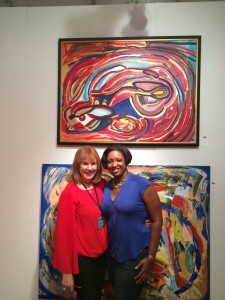 It wasn't just the people and the shows, but the experience of being around so many amazing artists and their energy.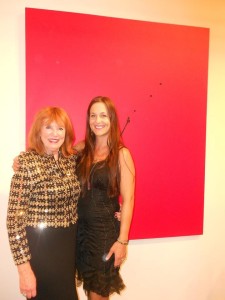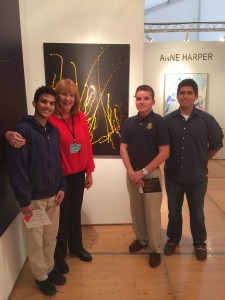 The show was a week long and in a very large tent. The tent was the size of several football fields and about 20 stories high! It was estimated that between seven and fourteen thousand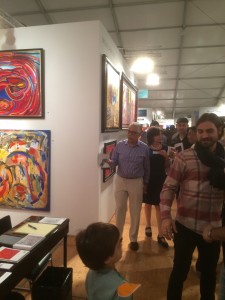 people a day came through to view the works of art.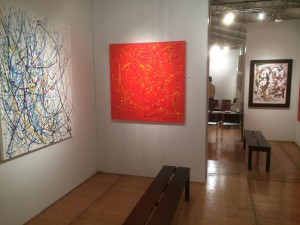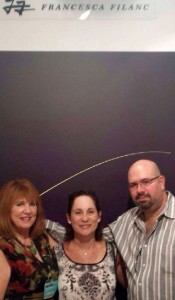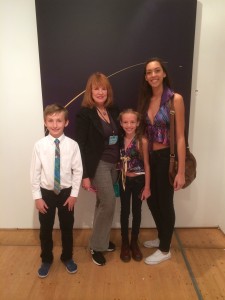 There were 29 shows going on simultaneously throughout the town of Miami.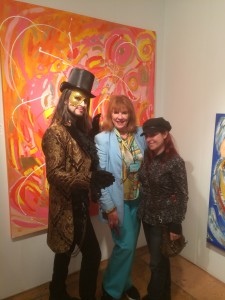 There is an expression used to describe this event; Art Takes Miami. Miami houses the largest collection of art fairs in the world.  The largest art fair during the time of Picasso used to be in Basel, Switzerland. Since then they have expanded and now the largest is in Miami, Florida. Since 1970 twenty-nine art fairs have sprung up all over the city. Spectrum Miami is one of these.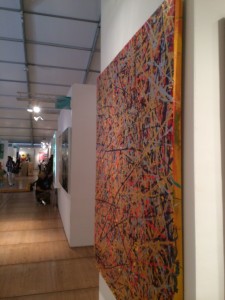 The history of Art Basel is as follows:
Art Basel was founded in 1970 by Basel Gallerists (also known as art dealers and connoisseurs of art) Trudi Bruckner, Balz Hilt and Ernst Beveler.  Three years after its launch, Art Basel welcomed 281 exhibitors and over 30,000 visitors. While other emerging art fairs partnered in the 1970s, specifically in Cologne and Düsseldorf, Art Basel remained independent.
In 2002, Art Basel was launched in Miami Beach, under the leadership of former director, Samuel Keller.
Art Basel debuted in Hong Kong in May 2013. In July 2011, MCH Swiss Exhibition (Basel) Ltd. – the parent company of Art Basel – acquired 60% of Asian Art Fairs Limited, which launched ART Hong Kong and has the option of acquiring the remaining 40% in 2014.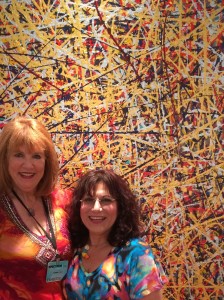 These art fairs provide opportunity to new emerging and established artists to be set on the world stage with collectors, galleries and individuals interested in purchasing fine art. This has become the way to expose fine art of all prices from $50 a painting or sculpture or photograph to half a million dollars and up in price.
This was my first time visiting Miami and I did not know what to expect. The extremely friendly people blew me away and so many cultures, each with their own traditions.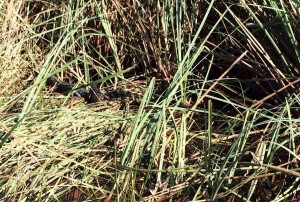 I was busy working the whole time but took the opportunity, staying an extra day after the show, to discover Miami and environs. My last day in Miami started with a tour of  The Everglades in an airboat.  Viewing baby alligators in the tall grasses and egrets. After the boat tour we had a show at the Everglades Park that included having the opportunity to hold a baby alligator.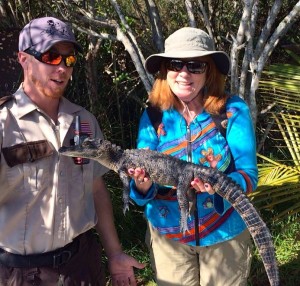 In the spirit of the moment, I added an informative bus tour of Miami which also included a two-hour boat tour of Miami's famous harbor including viewing shipyards, cruise ships and the homes of many famous people! Among the areas we visited by bus were: South Beach, Little Haiti, Little Havana, and Coral Gables to name a few. South Beach teemed with nightlife, eclectic varied restaurants with myriad aromas wafting through windows and doors onto the street, new quaint and older established hotels, night clubs galore with the delightful sound of Latin music. Visiting the area known as Little Havana where we had the opportunity to visit Cuba Tobacco Cigar Co.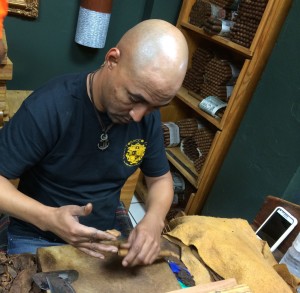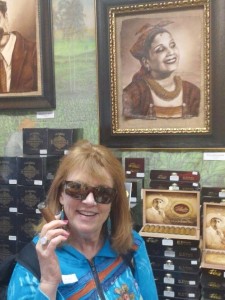 While there I met the great-grandfather legendary tobacconist Pedro Bello Sr., holder of the cigar industries most prestigious leaf award. Great grand-pa sits outside smoking, they say, sixty cigars a day and drinking sweet Cuban coffee! He is 85 years old! We watched a man hand-roll cigars in the traditional old-fashioned way!  People had the opportunity to purchase cigars. The district Coral Gables homes and environs were reminiscent of Pasadena and Beverly Hills, California;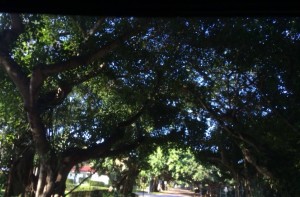 even housing the famous Biltmore Hotel on one of its grand avenues. Kings, Queens and Heads of States have enjoyed the old world opulence and elegance of this famous hotel.
After Coral Gables the bus finalized our tour taking us to our waiting boat. In Miami's harbor we sailed past three islands; Star, Palm and Hibiscus that are each privately owned by the homeowners of the islands. It is interesting to note that people of such high profile have or had homes right next to each other that can be viewed from the harbor! Several of the homes are now empty or have new owners which makes sense to me during this time of paparazzi! Some of the people whose homes we passed by: Madonna, Miami Sound Machine, Ricky Martin, Antonio Banderas, Elizabeth Taylor, Bacardi Rum Family, Frank Sinatra, Don Johnson, Johnson & Johnson, Sylvester Stallone, even Al Capone had a compound and died there years ago! May I also add that many of these mansions had large expensive yachts docked right out front of their properties!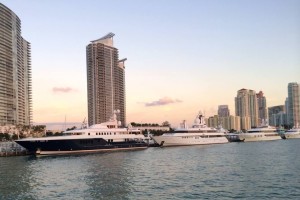 We sailed past a magnificent estate with Italian Gardens, including Italian Cypresses, parterres and vegetables.  Docked at the water's edge was an elegant yacht backed by romantic woods on either side. The joke is that this is the house that Viagra built, but in reality it is owned by an important person on the board of the company (Pfizer) that distributes the drug.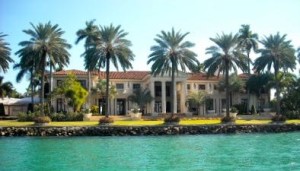 I was amazed that all these very famous people chose to live or have homes right next to each other in an area accessible by boat to onlooking tourists. Perhaps this is why several of the homes were vacant or recently sold!
I ended my day with a most delicious meal at Joe's Stone Crab! An elegant restaurant dating back to 1913.
 Joe Weiss opened up a small lunch counter on Miami Beach. Back then, Miami Beach was just a quiet, backwater town. Folks stopped in to chat and for a top-notch fish sandwich and fries. This, of course, was only the beginning, and what happened next is a story worth telling.
Sitting in Joe's Stone Crab eating a delicious dinner while sipping on a up Gray Goose Martini I was lost in thought. It was so reminiscent of days gone by, viewing a traditional Christmas tree with tinsel and all — it took me back to my childhood!!
Bye For Now,
Francesca
Did somebody tell you about watermelon Viagra? If you're concerned about sexual disorder, you have to study about it. Erectile dysfunction, defined as the persistent failure to maintain an hard-on to the orgasm, exerts an estimated 15 to 30 millions men in the United States only. Because some of symptoms are medical emergencies, it's considerable to know what to do if they happen. On occasion kidney disease will lead to erectile dysfunction. As a rule, this may include high blood pressure, anxiety, or a venous leak.