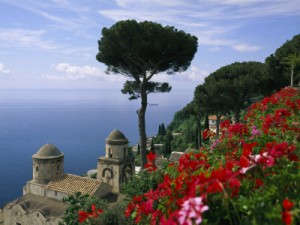 One of my daughters lives in Europe. I travel there to visit my family. Usually I don't branch out to different destinations because I want to spend all my time with children and grandchildren.
Last fall after staying two weeks with the children in the north of Spain, I met my mother in the Munich airport and continued on to our joint destination — a Road Scholar trip – Beyond the View — to Southern Italy; specifically Sorrento and the Amalfi Coast, arriving in Amalfi by boat!
On the last full tour day of our vacation our group took a tour bus to the tippy top town of Ravello, above the little beach town of Minori where we stayed on the Amalfi Coast.
Our delightful tour guide, Jan, announced just before we disembarked that we were going to tour Villa Rufolo as a group.
 The bus will leave at 12:00 noon sharp to transport you all back to Minori to have a free afternoon.
Otherwise you may stay the afternoon here and find your own transportation back to the hotel.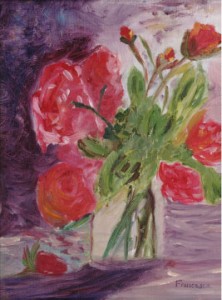 As my mother sat in the middle of the bus and I was way at the back, she immediately stood up and energetically announced so the whole bus could hear!
 Fran! You and I will be staying for lunch and going to the gardens of Villa Cimbrone, one of the most beautiful places on earth and take a taxi back!
 It was early morning in the first week of October. The small town square was empty which was came as a happy surprise because our whole trip, although fabulous with history and beauty, had been met with crowds of people.
 Villa Rufulo, our first stop, took my breath away. The Italian Stone Pines arch over the pathway on the approach to the entrance of Villa. Around every bend we were greeted by breath-taking views of the Gulf of Salerno. Gardens included red geraniums, majestic stone pines, and partiers. I wanted to linger and was taking pictures at every turn. We oohed and ahhed looking at the views. We wandered back to the town square where I continued to do the same.
 Fran, we need to figure out how to get to Villa Cimbrone!
 The hike up to Villa Cimbrone was about a mile walk. Mama was anxious to get me there, but I tried every detour imaginable just to stop and take in the magnificent views, even stopping at a breath-taking hotel in route for us to have coffee and treats. We finally approached the entrance to Villa Cimbrone. OOOOOOHHHHH I exclaimed!  OOOOOHHHHHH!
Fran, why do you think I've been trying to get you here! Let's just hope that the fog hasn't rolled in!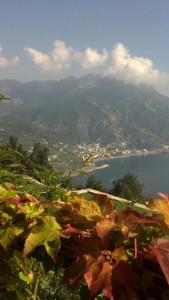 Villa Cimbroneis a historic building and gardens in Ravello on the Amalfi coast of southern Italy. The estate dates from at least the 11th century AD, although little of the original structure is now visible. Various owners altered and extended the building, using a variety of architectural elements from other parts of Italy and elsewhere. In 1904 Ernest William Beckett (later Lord Grimthorpe), bought the ruined farmhouse and transformed it into a palace. The gardens were redeveloped at the same time, being installed between the house and the cliff edge high above the Gulf. English architects and landscape gardeners such as Harold Peto, Edwin Lutyens and Gertrude Jekyll provided aesthetics concepts. The famous English gardener, Vita Sackville-West, often a guest of the Becketts, aided in the design of the flowerbeds and cultivations. The gardens are considered among the most important examples of
English landscape and botany culture in the south of Europe; an eccentric mixture of formal, beds bursting with English roses, Moorish tea houses, picturesque grottoes and classical temples. The villa is now a hotel, and the gardens are open to the public.
Mama and I wandered along the main path as I squealed with delight at the beauty that enveloped us. We ended up on a marbled promontory adorned with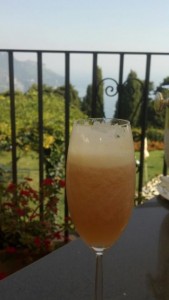 statues that looked out to the Mediterranean below. We spent several hours in this fairyland paradise, exploring together and then separately to each have our own personal experience. We agreed to meet for lunch at the hotel's outdoor restaurant. Lunch was an idyllic experience. I felt as if I were in a dream of another place and time, sipping a Bellini, transfixed in wonder, excitement, awe and emotion.
Ciao for now,
Francesca
Did somebody tell you about watermelon Viagra? If you're concerned about sexual disorder, you have to study about it. Erectile dysfunction, defined as the persistent failure to maintain an hard-on to the orgasm, exerts an estimated 15 to 30 millions men in the United States only. Because some of symptoms are medical emergencies, it's considerable to know what to do if they happen. On occasion kidney disease will lead to erectile dysfunction. As a rule, this may include high blood pressure, anxiety, or a venous leak.