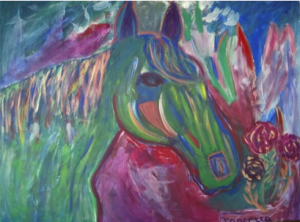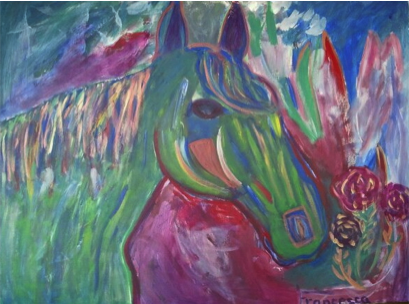 Good morning my little Gigi!
 My father would exclaim as he burst into my bedroom kissing me and then opening the blinds.
 Hurry out of bed and we can go down to see the horses.
 As I raised my sleepy head and yawned I quickly made my bed and pulled on my bathing suit not wanting to be left behind! This was a very special time with my father that I cherished.
We jumped in the car and traveled the mile down to the beach.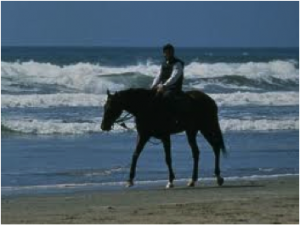 During the racing season in Del Mar, California which Bing Crosby, Bob Hope and Jimmy Durante were all instrumental in starting in the 1930's. The horses would be ridden in the early mornings from the race track to the ocean. The trainers and grooms, men and women both, would walk them into the ocean because the salt water was good for their joints. Some riding bareback would take them swimming through the waves. The riders also galloped the horses up and down the beach. What a sight to behold!
Daddy followed closely as I would scurry out of the car and down onto the beach. The delicious smell of salt air mixed with seaweed, horses and horse manure is one that I will remember the rest of my days. Exhilaration and anticipation abound because if I dilly-dallied or daddy did not wake me early enough on those Saturday and Sunday mornings the horses would be gone back to the track and I was sorely disappointed!
Grabbing my hand we would walk down the beach. Then I would set myself free of his hand and run towards the horses, which seemed like an eternity away! Once we arrived huge smiles plastered on our faces we would watch these most elegant, stunning creatures as they were walked, run and cajoled into the waves for a swim! Many of the thoroughbreds had their legs wrapped with white tape. Some were hurt. Limping, the healing salt water must have felt so good to these athletic horses.
 What a shame this practice was outlawed on Del Mar Beach.
 Dog Beach is now where Horse Beach was up by the cliffs on the north end of town.
When I was a girl, the horses were on the beach from about 6:30 -8:30 a.m. I was allowed to kiss and hug them. My father would lift me up to pat the necks of some. At the end of this magical period of time Daddy and I would say goodbye to the horses and watch as they left the beach walking under the 101 Bridge and back to the racetrack. It always felt a bit sad.
Pushing me out of my dream world where I was riding the magnificent beasts I faintly heard my daddy's cheery voice
 Ok my little Gigi, let's go have a look and see who is on the beach today and have our swim!
 As we walked away from the horses, me feeling sad wanting to be bigger and having one or many of my very own, I hear my father's voice,
Look who's here– Betty Grable and Benny Goodman.
 My father Lou, a showman himself, would walk right up to these people and say hi. On occasion there were some other exciting events to occur.
One time my father walked up to a very pretty redhead on the beach.
 How do you do Lucy, this is my little girl Francie. She just loves watching you on TV!
Well hello there!
Lucy bent down to shake my hand with her brightly painted red fingernails that matched her vivid red hair.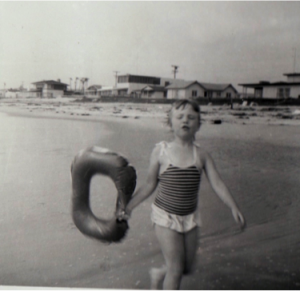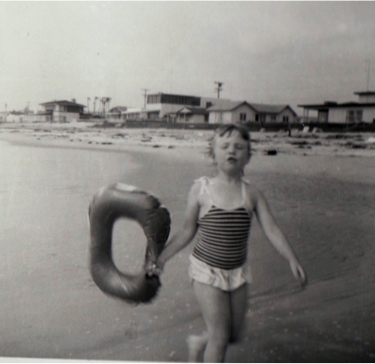 Sweetheart this is Lucille Ball.
 Oh wow!
 I shouted,
I watch you on TV every week!
You just keep doing that baby!
 Lucy replied in her deep husky voice.
The water felt so amazing as it hit my face. I dove under the waves and swam feeling so perfectly content, daydreaming of how it would feel to ride bareback into the ocean waves. Daddy laughed and I giggled as we played in the sea.
 Time to go sweetheart, breakfast will be waiting.
A shower never felt better! I felt fresh and tingly all over and boy was I hungry! Mama would have a delicious breakfast waiting for us. We would eat in the top patio looking out at the sea where I had just been but half an hour before. Blueberry pancakes with hot crisp bacon and fresh squeezed orange juice never tasted so good!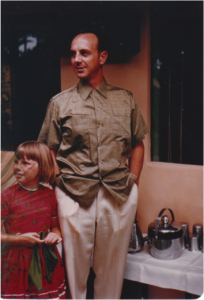 Bye for now,
Good Luck at The Races!
Francesca
Did somebody tell you about watermelon Viagra? If you're concerned about sexual disorder, you have to study about it. Erectile dysfunction, defined as the persistent failure to maintain an hard-on to the orgasm, exerts an estimated 15 to 30 millions men in the United States only. Because some of symptoms are medical emergencies, it's considerable to know what to do if they happen. On occasion kidney illness will lead to erectile dysfunction. As a rule, this may include high blood pressure, anxiety, or a venous leak.