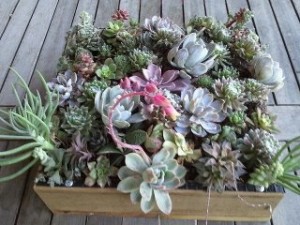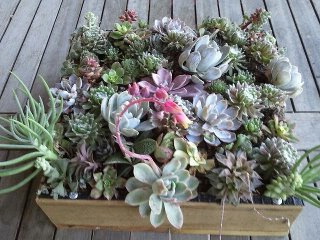 Here's a project that is lots of fun. Making your own wall succulent planters will also save you money :)
A friend's husband made the boxes for our garden club, but directions for making a simple frame are available here:  Sunset Magazine Article.
How to make your own succulent frame:
1. For a 1-foot-square frame, cut four 12-inch lengths of 2×2 lumber. Nail the corners together for a frame 2 inches deep.
2. Staple or nail a 1-foot square of plywood onto the open back of the frame. Exterior plywood or 1×12-inch redwood works well. You can also channel out a section of the back in order to hang on a wall three months later.
3. Screw ½-inch hardware wire mesh to one side of the open frame. If desired, add trim on top of the mesh to hide it. (If you're a skilled woodworker, you can also cut a channel into the wood and slide the mesh into the channel, hiding the mesh's cut edges.)
A friend and I were formatting this project for a group of 30 garden club women.
Soak sphagnum moss overnight in a bucket. Wring out well and generously line the bottom and sides of your frame. Now fill the planter with a 50/50 mix of potting soil and cactus mix.  Make a sphagnum moss sandwich by covering the top with another generous layer of the moss.  Screw the wire mesh down on remaining two sides.
Co-Garden Club program chair and I had previously bought succulents for all to use. We also suggested people bring succulents from their own gardens to share.
The best succulents to use for this project are slow growing ones. Visit your local nursery for plant material if you don't already have succulents from your own garden from which to take cuttings. Here are a few suggestions: Aeoniums, Echeverias, Crassula perforate, Senicio rowleyanus, Sedum spathulifolum. Use your imagination!
Check out Debra Lee Baldwin, best selling author, Designing with Succulents and Succulent Container Gardens.
The day of the event was so much fun and everyone's box turned out differently. Since the beginning of human time women have loved working and creating together. It takes us back to our roots.
If you intend to hang your succulent planter on a garden wall, wait three months for
succulents to root.
In my case, I have enjoyed my succulent boxes as center pieces on outdoor tables that are mainly in shade. I have one that I made a year and a half ago that is a little leggy but still beautiful. With a little housekeeping or should I say gardenkeeping, cutting succulents back, letting them harden off for a week and then replanting; Voila my year and a half leggy planter will look fresh and new.  :)
Try to use slow growing succulents or ones that do not get too large. I put in what I felt was beautiful. Succulents are so forgiving that it is easy to change things around. Filling boxes tightly with succulents will give you an immediate show stopper look.  :)
Have fun!
Bye for now
Rippin' Lips
Francesca
Did somebody tell you about watermelon Viagra? If you're concerned about sexual disorder, you have to study about it. Erectile dysfunction, defined as the persistent failure to maintain an erection to the orgasm, exerts an estimated 15 to 30 millions men in the United States only. Because some of symptoms are medical emergencies, it's considerable to know what to do if they happen. On occasion kidney illness will lead to erectile dysfunction. As a rule, this may include high blood pressure, anxiety, or a venous leak.