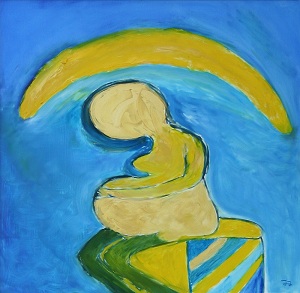 Painting as well as other disciplines needs enlightenment and inspiration for the artist to make the opportunity to paint an inspired piece of art. It is paramount for an artist to view paintings in museums. Many artists, some who paint abstract and some who are traditionalists inspire me which can be seen through my art.
The last few days I was in Spain visiting my daughter and her family, we traveled from their home in the town of Izcue by bus to Pamplona and then by train to Madrid.
We stayed in a hotel that I would highly recommend. The prices were good. It was clean and lovely located in a residential neighborhood on a tree-lined street. AC Hotel Carlton Madrid Paseo de las Delicas 26 28045 Madrid. The hotel is in walking distance to all the museums and just down the street from the train station. Which by the by has a restaurant and a beautiful garden. The hotel seems to cater to the businessperson as well as the vacationer. There is a sumptuous buffet breakfast with everything from smoked salmon to deserts. After stuffing ourselves on the delicious repast we were ready to walk it off with plenty of museum viewing!
 I was thrilled to learn that we were in time to see the Marc Chagall exhibit at the Museo Thyssen-Bornemisza. Chagall's art is childlike yet sophisticated. He paints cows, roosters, goats and lovers in the sky. Chagall was a colorist and he painted his feelings.
 I relate to Chagall because I am also a colorist and I paint my feelings.
We walked to three museums that day including the Prado. We looked at works by Diego Velazquez, larger than life paintings, some looking to be ten stories high. The majority of people were clustered around Las Meninas. Las Meninas is famous in part because Velazquez painted himself in the painting. One painting in particular that I was especially attracted to depicted a magnificent white horse with flowing mane, snorting the air, high-spirited with a regal-looking man on his back. There were many such paintings with a similar theme. Velazquez is a national treasure of Spain. When you go to the Prado you see a multitude of his works.
My son-in-law Iban and I visited Guernica by Picasso, depicting the massacre in a small Basque town during the time of Franco. They are working on refurbishing the painting at the Museo Nacional Centro de Arte Reina Sofía but it was still on display. It was created in response to the bombing of Guernica, Basque Country, by German and Italian warplanes at the behest of the Spanish Nationalist forces, on April 26th, 1937, during the Spanish Civil War.
 On my last night in Madrid we walked to dinner a few blocks away from our hotel. We sat on the street, drank good wine and had a culinary delight of several courses of tapas that my daughter took great delight in ordering for the table. We started with calamari and white asparagus, the dishes kept coming including lamb and ending with traditional deserts.
Mikaela had fallen asleep in the stroller next to our table and Anushka stayed awake until we returned back to our lovely hotel. I asked for a cab to pick me up in the morning to take me to the airport. Yvette, Iban, Anushka and Mikaela enjoyed the day in Madrid and then walked to the train that took them back to Izcue, and yours truly traveled home to California. What a lovely memory of my last two days in Spain.
Adios,
Bye for now,
Francesca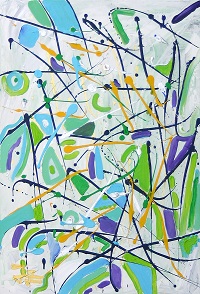 Did somebody tell you about watermelon Viagra? If you're concerned about sexual disorder, you have to study about it. Erectile dysfunction, defined as the persistent failure to maintain an erection to the orgasm, exerts an estimated 15 to 30 millions men in the United States only. Because some of symptoms are medical emergencies, it's considerable to know what to do if they happen. On occasion kidney illness will lead to erectile dysfunction. As a rule, this may include high blood pressure, anxiety, or a venous leak.